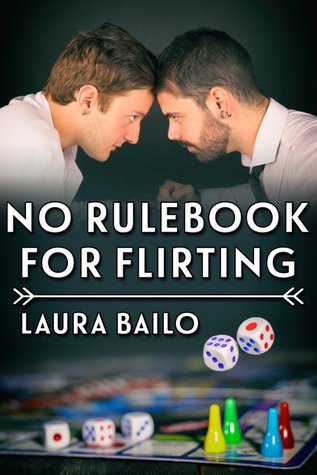 When Gabriel goes to the annual gaming convention, planning to play as many games as he can during the next three days, he doesn't expect to be glared to death in the parking lot by a really cute guy. So when the same guy joins the game Gabriel is playing, Gabriel is determined to make him smile, even if it takes some awkward flirting.
When Aitor makes it inside the convention center after someone steals his parking spot, he doesn't expect to be so attracted to the man he decided to hate just a few minutes earlier. But as he gets to know Gabriel through gaming and flirting, he just can't look away.
The game of flirting has no rulebook, but for Gabriel and Aitor, it may just have two winners after all.
Add it on Goodreads or buy it on Amazon.
Please note: the author is one of the TBR team. However she has not had sight or knowledge of these reviews prior to this post going live, and has not influenced or tried to influence the reviewers in any way.
Overall Rating: 6/10 stars
Arthur's Review: 3/5 Stars
This little story was so refreshing. It isn't about being trans. It's a cute little romance that happens to involve a trans character.
Gabriel and Aitor meet at a gaming convention when Gabriel steals the parking spot Aitor had his eye on. Not the best meet cute, maybe, but when they find themselves at the same game table and start talking they find themselves getting along quite well. Over the course of the convention, they bond over games and their attraction grows.
I loved how simply the author handled Aitor's being trans. He inquires about Gabriel's shirt – a trans rights are human rights shirt – and gauges how safe it is to reveal he is trans to Gabriel. He tells him simply and that's it. There's no big deal, no discussion of transition or deadnames like can often happen in books with trans love interests. And I love that. Because the importance doesn't rest on Aitor's being trans – it's a fact, it's mentioned, and they move on.
This story was very cute and sweet. I enjoyed Gabriel and Aitor's growing closer. And I loved how nerdy it is – I love gaming myself and it was fun to read about the different games Gabriel and Aitor played (some I've played, some I definitely need to check out!).
My only complaint is that it was a little too short and quick for me. I would have loved if it had gone more in depth with Gabriel and Aitor, given us more of their growing closer and beginning to date. But overall I really loved this. It's so sweet and cute and a quick, feel good read.
Maria's Review: 3/5 Stars
This was a fast, sweet read full of fluffy feels starting with a very interesting first encounter. I liked Aitor and had fun getting to know him. But. And folx, this is going to be such a ridiculous "me-thing", it's not even funny. Here's the thing. I'm one hell of a passionate board gamer. I loved the games picked in the story and I play them myself. So the fact that Gabriel plays Carcassonne a certain way BOTHERED me.
Laugh all you want, but the kind of game he played? Is exactly what I hate in real life and therefore it took me a ridiculous amount of time to just get over that. My instant dislike of him got in the way of enjoying the story. And it was really cute and a little bit steamy and lots of fun, too. I just couldn't get over my damn self and then the story was over and I just missed a lot of emotional connection and sweetness because I was hung up on this one little thing. I just struggled with emotionally connecting to Gabriel and to them bot as a couple.
So three stars because this is the perfect case of: It's not you, it's me. I am absolutely sure others will not have my issues and enjoy that story way more without getting in their own way.